Circle of Friends Adult Day Health Care Center
Where Friends Become Family
Circle of Friends Center offers clients a chance to explore their talents, expand their hobbies, and try new experiences together in a safe, friendly environment. Our center program allows senior adults to develop their independence and continue living at home with their families for as long as possible, provide a safe environment for an individual who cannot be left at home alone, during hours when a caregiver is at work.
What is adult day health care?
Adult day health care is a planned program that includes a variety of health, social and supportive services in a safe, protective environment during the daytime hours. It is a licensed, community-based program for seniors who need supportive services. At Circle of Friends Center we offer care, assistance, and social opportunities to seniors while giving respite to their families and caregivers. With adult day services, people with health problems, Alzheimer's disease, chronic illnesses, or physical disabilities are able to continue to live in the community while receiving professional services in a group setting. Involvement in an adult day health care program can increase a senior's health, outlook, and chances of remaining in the community.
Benefits of Adult Day Health Care
Preserves independence
Promotes Social and Cognitive Function
Safely engages seniors in appropriate physical activities
Creates routine and daily expectations
Improves senior health and quality of life
Social Interaction
Circle of Friends Center 18 year experience shows that our adult day health care program may help individuals:
Provide opportunities for friendship and decrease the harmful effects of isolation and loneliness
Having something to look forward to
Stabilize their medical conditions and reduce hospitalizations
Prevent disabilities that result from excessive inactivity or bed rest
Increase self-esteem and dignity
Increase verbal ability and mobility
Elevate mood and improve behaviors
Improve nutrition
Lead to improved ability to perform daily activities
Create a feeling of belonging to a community
Benefits of Adult Day Health Care for Family Members / Caregivers: 
Reduce stress
Improves participant and caregiver relationships
Reduced anxiety or guilt
Peace of Mind
Financial Relief-Adult day care is often free (Aging Waiver) or less expensive than in-home medical care or full time rehabilitation/nursing facilities.
Freedom to continue working
Improved Quality of Life
Deserved break from the daily struggle of meeting their family member's needs and balancing their own responsibilities
Call and speak to one of our friendly team member who will discuss with you the process steps.

Request our facility tour where you'll see our program in action.

Stay in touch with us and when your service will be approved by State Agencies we will setup your care package.
Why choose Circle of Friends Care?
We are committed to being your shoulder to lean on and we allow senior adults to develop their independence and continiue living at home with their families for as long as possible.
Nutrition meals
Balanced meal plans are developed by a Registered Dietitian and meet each participant's medical requirements and food allergies beyond general low sodium, low fat recommendations.
Transportation Service
Our drivers keep the high standard of service quality and provide door-to-door transportation services. All drivers are certified by Red Cross in the First Aid/CPR/AED.
Nursing
Registered Nurses provide medication administration and close monitoring of  participants. We develop emergency "action plans" with the Nurse Practitioner with follow-up care.
Social Engagement
We design  programs to increase positive relationships with others, provide opportunities to express emotions, decrease depression and increase social interactions.
Multi-lingual staff
Our staff speak several languages besides English, including Korean and Russian. Our clients and staff members feel validated and considered important no matter their differences.
Staying Active
Staying active is one of our passions here at Circle of Friends. We create a feeling of belonging to a community, increasing verbal ability and participant's mobility.
Stay up to date with the latest news & press releases.
Pro­vides gen­eral infor­ma­tion and dis­cus­sion to promote caregivers understanding and knowledge about various health-related topics.
Our 97% client satisfaction rate is unparalleled in our field.
Read below what our clients have to say and learn more about what makes us the premier provider of in-home senior care.
Great facility clean and nice. Relaxed and fun. Staff, clients, client's family, nurses and physicians work close to provide care that meet the individuals needs.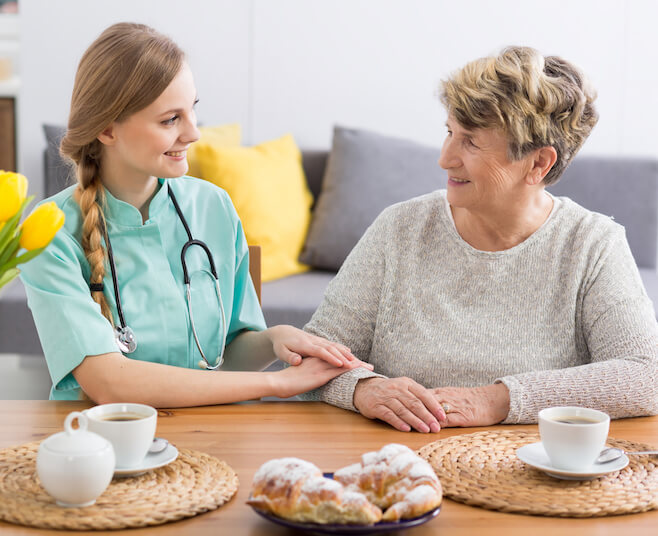 This place welcomes everyone as family, with a very politely staff of well trained personnel. All clients are treated equally no matter of religious or ethnic group.
Great place for seniors!!! All staffs are very friendly. My grandmom is enjoying here now!! Excellent activity programs, and amazing foods!!
This is such a great place for seniors! The staff are sweet and helpful, it's very clean, the seniors who attend always look lively and are having a great time.